The Neurotech 2016 symposium presents talks by neurotechnology pioneers whose cutting-edge innovations are changing the face of neurobiological research from molecules to cognition. The symposium is open to the public, and registration is required, but seating is limited.
DATE: Tuesday November 29th, 2016
TIME: 9:00 am – 5:00 pm (reception following)
LOCATION: MIT Bldg. 46-3002, Singleton Auditorium
QUESTIONS? Denise MacPhail | dharring@mit.edu
Registration is required and space is limited.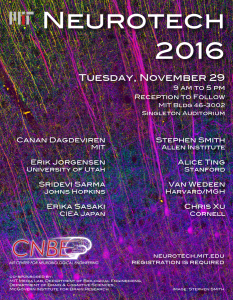 PROGRAM
TUESDAY, NOVEMBER 29, 2016
8:30 am               CHECK-IN / COFFEE IN ATRIUM
9:00-9:10 am        ALAN JASANOFF & ED BOYDEN
Welcoming remarks
SESSION ONE
CHAIR:  Ed Boyden, MIT
9:10-9:55 am        ERIK JORGENSEN, University of Utah
Coupling light and ice for millisecond resolution of  membrane trafficking 
9:55-10:40 am      CHRIS XU, Cornell
Multiphoton imaging of mouse brain structure and function
10:40-11:00 am     BREAK
SESSION TWO
CHAIR:  Mehrdad Jazayeri, MIT
11:00-11:45 am     ERIKA SASAKI, CIEA Japan
Genetically modified marmoset model for neuroscience
11:45-12:30 pm     VAN WEDEEN, Harvard/MGH
The structure of the brain: Is it a crystal?
12:30-1:30 pm       LUNCH
SESSION THREE
CHAIR:  Ann Graybiel, MIT
1:30-2:15 pm        CANAN DAGDEVIREN, MIT
A mechanically-adaptive, micro-fabricated device for chronic treatment of neurological disorders
2:15-3:00 pm        SRIDEVI SARMA, Johns Hopkins
Fragility in the human decision making system: When internal biases hijack logic
3:00-3:20 pm        BREAK
SESSION FOUR
CHAIR: Kwanghun Chung, MIT
3:20-4:05 pm        ALICE TING, Stanford
Genetically-encoded reporters for mapping synapses and circuits in living cells and tissue
4:05-4:50 pm        STEPHEN SMITH, Allen Institute
Shotgun Connectomics: Sparse sampling of synaptic network structure and function
in human temporal cortex
4:50 pm               RECEPTION IN ATRIUM
*****
Sponsored By:
MIT Center for Neurobiological Engineering
Co-Sponsored By:
MIT Media Lab, Department of Biological Engineering, Department of Brain & Cognitive Sciences, McGovern Institute for Brain Research