The Neurotech 2016 symposium presents talks by neurotechnology pioneers whose cutting-edge innovations are changing the face of neurobiological research from molecules to cognition. The symposium is open to the public, and registration is required, but seating is limited.
DATE: Tuesday November 29th, 2016
TIME: 9:00 am – 5:00 pm (reception following)
LOCATION: MIT Bldg. 46-3002, Singleton Auditorium
QUESTIONS? Denise MacPhail | dharring@mit.edu
Registration is required and space is limited.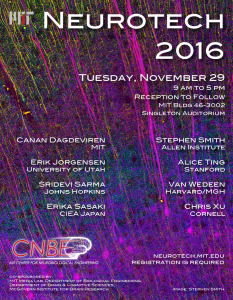 SPEAKERS
Canan Dagdeviren, MIT
Erik Jorgensen, University of Utah
Sridevi Sarma, Johns Hopkins
Erika Sasaki, CIEA Japan
Stephen Smith, Allen Institute
Alice Ting, Stanford
Van Wedeen, Harvard/MGH
Chris Xu, Cornell
**Final schedule will be posted soon.
*****
Sponsored By:
MIT Center for Neurobiological Engineering
Co-Sponsored By:
MIT Media Lab, Department of Biological Engineering, Department of Brain & Cognitive Sciences, McGovern Institute for Brain Research